Yoga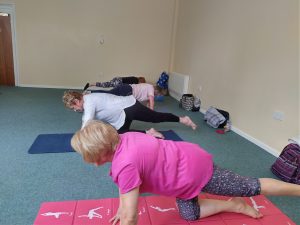 Our Yoga class meets at the Centre on Tuesday and Thursday mornings under the tutelage of Steve Shortland.
Members are guided through movements and meditations 'bringing reunion with the universal spirit'.
If you are interested in this class, please call Thelma on 01354 741118 for details on how to join.
Short Mat Bowls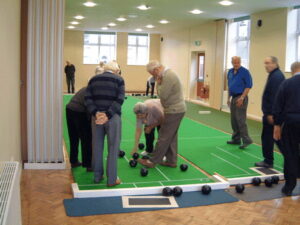 The main hall is used for the Short Mat Bowls Club to meet and enjoy their weekly games.
The Centre is equipped with three bowls mats.
If you would like to come along, the bowls club meets on Thusday afternoons . Please ring Ken Barber on 01354 669271 for more details.
Large Meetings and Parties
The main hall is a large room which can be divided into 3 distinct sections by means of room dividers completely separating one section from another. However, when required the dividers can be withdrawn to allow the full length of the hall to be used as a meeting space.
The photo shows the hall being set up for a party celebrating a 90th birthday anniversary.
Community Cinema
The Annexe is used as the venue for the Chatteris Community Cinema and can hold up to 56 seats in cinema layout.
The Cinema Club holds monthly performances, usually on a Saturday. For up to date information check out their website.
Peter Pan Pre-school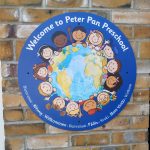 Peter Pan Pre-school occupies the Annexe Monday to Friday from 9am to 4:15pm term time only.
For more information on the Pre school contact Amanda Holmes on 01354 693432 or find them on facebook.